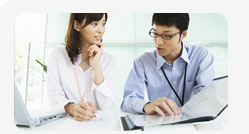 We have never been compromising on pursing better quality.
HER CHANG HSING is a grounded, reliable, and trustworthy
company. We have been established since 1991. After there years,
we have built a reputation in our field, and had long term relationships with our supplies and customers. There is no doubt that we will be committed ourselves to customers' satisfaction. In order to improve the quality of our products, we have put effort on upgrading every single production process.